Look how far you have come!
As you read through all of this, it is important to remember that your baby came early. While the time in the NICU was important and hard to forget, it is also important to remember that your baby's brain reached the same level of maturity or development around the time of your expected date of delivery – not when he or she was born. So as you read this, we are referring to ages for your baby based on your expected or due date. Some people refer to these dates as 'corrected dates'.
---
1st Month Corrected:
Congratulations on your baby getting to this important milestone! You may be feeling excited or anxious to get started with 'exercises' or activities to help your baby's development. For now, we want to focus on helping your baby to learn about you and how to calm him or herself.
Here are some strategies to do this:
Soother
Sometimes babies who spend time in an NICU have difficulty calming themselves, and the use of a soother can be a good calming strategy.
Sucking on a soother has been shown to help babies calm down and stay calm.
When a baby is calm, this helps babies learn about their environment and their caregivers.
The best shape is one that is round and not flat on one side. This shape promotes normal tongue action.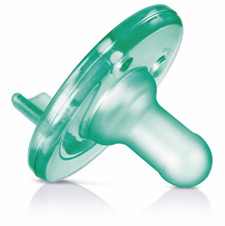 Midline head
Premature babies can have difficulty holding their head in the midline as their tummy muscles can be weak. They have not had the chance to use them as much as babies born at term. Helping a baby to hold his or her head in midline allows them to look at you and make eye contact. In order to do this, you can make a roll as shown to help your baby for now.